Bill helped raise money for the Artist's General Benevolent Institution with an auction at the Chelsea Arts Club of a specially illustrated plate featuring a photo by Bill.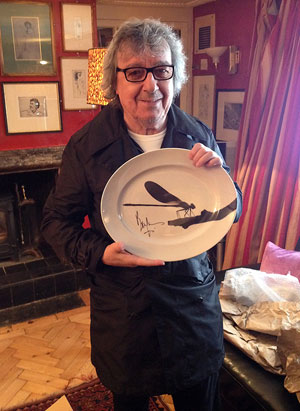 Bill's plate, called 'Damselfly' and featuring a photo taken by Bill of a damselfly as a big success during the auction at the Chelsea Arts Club. The auction, which took place on May 29, saw around 30 specially commissioned and donated plates available from a number of contemporary artists such as Bill and Sir Peter Blake.
Bill's 'Damselfly' plate raised a significant amount for the Artist's General Benevolent Institution.
The Artists' General Benevolent Institution (AGBI) was founded by J.M.W Turner in 1814 and incorporated by Royal Charter in 1842, it is one of the oldest charities in the United Kingdom. The AGBI financially supports professional artists in need living in England, Wales or Northern Ireland who cannot work or earn due to accident, illness or older age.
The AGBI is a charity run for artists by artists.
The Chelsea Arts Club is located in London with a membership of over 2,400, including artists, poets, architects, writers, dancers, actors, musicians, photographers, and filmmakers. The club was established on 21 March 1891. During its primary season from September – June the Chelsea Arts Club serves as a host for many functions, from instrumental and choral performances to visual arts exhibitions, literary talks, and weekend artist lunches.