Bill has revealed that a special LP vinyl edition of his White Lightnin' The Solo Box collection will go on sale in May – and you can pre-order from Bill's online store!
Music fans will love this release – Bill has revealed details of a vinyl release of his acclaimed box set White Lightnin' – and it goes on sale on May 12, 2017.
Reserve your collectors edition today – pre-order White Lightnin': The Solo Box 4 LP box set.
This box contains all four solo albums by Bill Wyman, the first Rolling Stone to release a solo record. The first two (from 1974 and 1976, both issued on Rolling Stones Records) were made the help of a galaxy of musical friends like Lowell George, Dr John, Joe Walsh, Van Morrison, the Pointer Sisters, Danny Kortchmar, Dallas Taylor, Leon Russell, Bob Welch and Nicky Hopkins.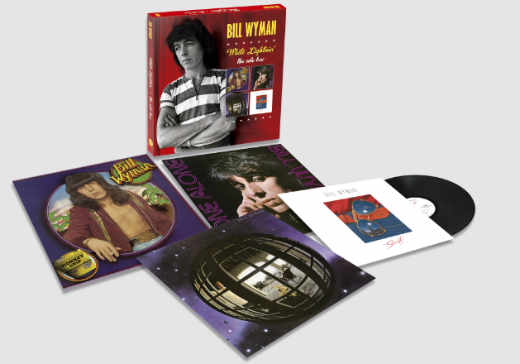 The eponymous third album was home to Bill's 1981 big hit single "(Si Si) Je Suis Un Rock Star" as well as follow-up hits "Come Back Suzanne", "A New Fashion" and "Visions, while fourth album "Stuff" appeared in 1992, originally in Japan only.
The albums are now issued on vinyl for the first time since their original release (and 'Stuff' on vinyl for the first time ever), gathered together in a beautiful rigid slipcase. The new inner sleeves feature all the lyrics and the musician credits.
Pre-order White Lightnin': The Solo Box 4 LP box set from Bill's official online store.