The fourth and final boxset in the Bill Wyman's Rhythm Kings series has been released – including a CD and three DVDs featuring live performances.
The Kings of Rhythm Volume Four: Race with the Devil chronicles the live performances of Bill Wyman's Rhythm Kings, the ten-piece band that Bill put together after leaving the Rolling Stones in 1992. The band has a core rhythm section, but features a revolving combination of all-star guest front men and women.
Buy The Kings of Rhythm Volume Four: Race with the Devil from Bill's official online store.
Edsel has continued its ongoing Bill Wyman Recording Archive series with a fourth and final volume dedicated to the classic Rolling Stones bassist's Rhythm Kings. The Kings of Rhythm Volume Four: Race with the Devil is a 3-DVD/1-CD set preserving live performances from Wyman's spirited band of Rhythm Kings as recorded between 1999 and 2004. Two of these concerts are previously unreleased. With the Rhythm Kings, Wyman tapped into his own blues and rock-and-roll roots and proved the endurance of these classic songs.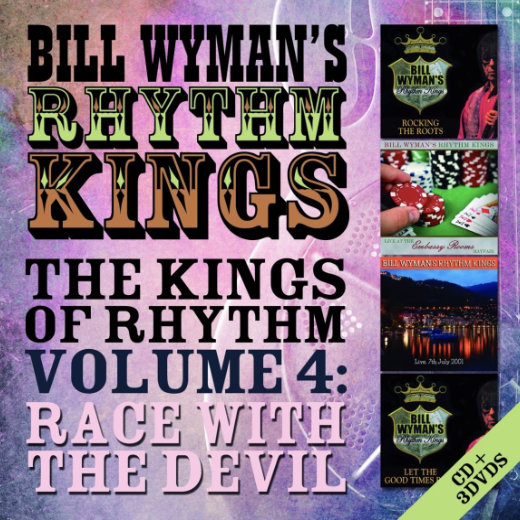 The CD component of this set, Rocking the Roots, draws on a performance from January 25, 2004 at The Lowry, Salford Quays, in Salford, Greater Manchester.  This gig is also presented on DVD.  The concert featured bandleader/bassist Wyman joined by an all-star ensemble including Albert Lee and Georgie Fame as well as guitarist Terry Taylor, vocalist Beverly Skeete, pianist Mike Sanchez, drummer Graham Broad, and saxophonists Frank Mead and Nick Payn.  The R&B revue tackled such song as Ray Charles' "I Got a Woman," Willie Dixon's "Down in the Bottom," Bob Dorough and Ben Tucker's "Comin' Home Baby" (popularized by Mel Tormé), Jackie Wilson's "Baby Workout," and Louis Prima's "Jump, Jive and Wail" – the latter an anthem for the late-1990s swing revival.  On one DVD, this concert has been joined by a show from three nights earlier, on January 22 at Bournemouth's Pavilion.  This entirely different setlist has the freewheeling group injecting energy and zest into Chuck Berry's "You Never Can Tell," Percy Mayfield's "Hit the Road, Jack" (another Ray Charles favorite), Screamin' Jay Hawkins' "I Put a Spell on You," Berry Gordy's "I'll Be Satisifed" (a hit for Jackie Wilson) and Gene Vincent's "Race with the Devil."  (Both of these shows were released on DVD in 2004.)
Buy The Kings of Rhythm Volume Four: Race with the Devil from Bill's official online store.
Two more DVDs each present a previously unreleased performance.  Live at the Embassy Rooms, Mayfair takes viewers back to June 24, 1999 and a similar Rhythm Kings line-up anchored by Wyman, Fame, Lee, Taylor, Skeete, Broad, Mead and Payn plus pianist/singer Gary Brooker of Procol Harum, Martin Taylor on guitar, and background vocalists Janice Hoyte and Keeley Coburn.  The party feel is emphasized by the inclusion of "Let the Good Times Roll" and a medley of "Land of 1,000 Dances/Tequila/La Bamba," while the setlist also heads into the latter 1960s and 1970s with covers of The Classics IV's "Spooky," John Fogerty's "Green River," J.J. Cale's "Anyway the Wind Blows," and even the Stones' "Melody."  This DVD boasts a host of bonus features such a promo film with Wyman, Fame and Skeete interviews and performances of "Tell You a Secret" and The Young Rascals' "Groovin'," plus Wyman's own camcorder footage of the tour.
The DVD Live at the Montreux Jazz Festival was filmed at that venerable venue on July 7, 2001 with an identical line-up to that of the 2004 show plus Janice Hoyte.  There are blues classics a-plenty here including "I Put a Spell on You," and John Lee Hooker's "Boom Boom" as well as Wyman and Taylor's originals like "Hole in the Wall" and "Jitterbug Boogie" plus singer-songwriter Dan Hicks' "Walking One and Only."
These lively and eclectic performances from Wyman's swinging big band are housed in individual paper sleeves within a compact clamshell case.  A 24-page color booklet boasts a new essay from Tony Rounce as well as full credits and artwork for each concert.
Buy The Kings of Rhythm Volume Four: Race with the Devil from Bill's official online store.