The fourth and final boxset is now available for preorder! Volume 4: Race With The Devil is available now in Bill's new online shop…
Release Date: February 3, 2017 – preorder your copy now!
This fourth and final boxset in the series contains a CD and three DVDs chronicling the live performances of Bill Wyman's Rhythm Kings, the ten-piece band that Bill put together after leaving the Rolling Stones in 1992. The band has a core rhythm section, but features a revolving combination of all-star guest front men and women.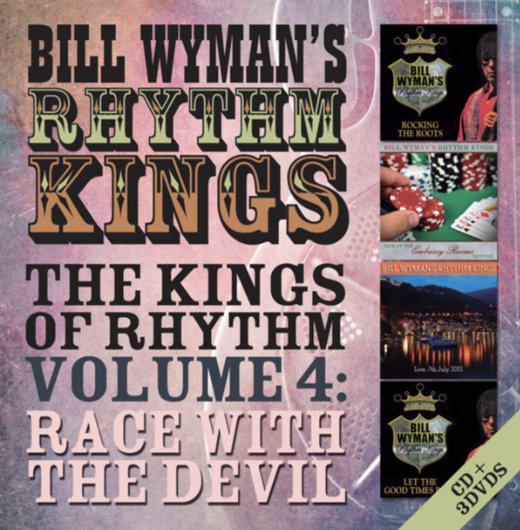 These DVDs and CD feature the talents of Georgie Fame, Albert Lee, Mike Sanchez, Gary Brooker, Beverley Skeete, Terry Taylor and Peter Frampton.
DVD 1 was filmed at the Embassy Rooms in London in June 1999, but this is the first commercial release of the footage of the two hour concert. Bonus features include the "Groovin'" album promo film with interviews and performances, and Bill's own previously unreleased camcorder footage from the 1999 UK tour.
DVD 2 is the band's previously unreleased performance in Montreux in 2001, while DVD 3 features two concerts from 2004, along with a tour documentary.
The booklet contains all the credits and new annotation by Tony Rounce.
Preorder The Kings Of Rhythm – Volume 4: Race With The Devil – releases February 3, 2017.