Bill Wyman's Rhythm Kings will be releasing a new digital album – Rocking The Roots – in February and available on Apple iTunes.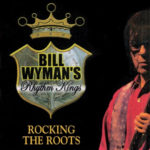 Rocking The Roots releases on February 3, 2017 – with digital downloads available on iTunes for £4.99 – via Demon Music Group. Bill Wyman's Rhythm Kings, the ten-piece band that Bill put together after leaving the Rolling Stones in 1992. The band has a core rhythm section, but features a revolving combination of all-star guest front men and women. Rocking The Roots features the talents of Georgie Fame, Albert Lee, Mike Sanchez, Gary Brooker, Beverley Skeete, Terry Taylor and Peter Frampton.
Label: Edsel
Format: Digital
Date: 03/02/2017
Cat#: 5032698631926
Barcode: 5032698631926
Genre: Blues, Rock, Rock 'n' Roll
The album includes the following tracks:
I Got A Woman
Jitterbug Boogie
Jump Jive And Wail
Baby Workout
Kiddio
Down In The Bottom
Comin' Home, Baby
Flatfoot Sam
Real Wild Child
Lights Out
Tear It Up
We've also included a video of the official Rocking The Roots trailer. This film captures Bill Wyman's Rhythm Kings on the road, in the studio and onstage during their 2004 European tour, performing 'roots' music by some of the greatest artists of all time including Nina Simone, Ray Charles and Chuck Berry. Featuring a host of talented musicians, today's Rhythm Kings line-up perform some of the greatest songs of the last 50 years alongside original material, accomplishing exactly what Bill set out to do – create an evening of fun and enjoyment for all.