Albert Lee's 70th anniversary concert photo gallery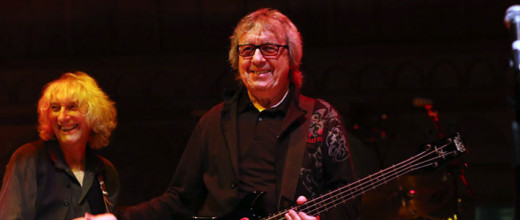 Exclusive behind-the-scenes photos of Bill Wyman and friends at Albert Lee's 70th birthday celebration concert held on March 1 and 2…
Bill was a special guest for Albert Lee's 70th birthday celebration concert held in Cadogan Hall in London on March 1 and March 2. If you missed it – and it's likely, as tickets were hard to get hold of – we've posted some behind-the-scenes photos of Bill at the concert with friends. Bill also sent over some scans of the programme, backstage pass and ticket to complete the collection.
Bill says: "In the afternoon I went with Tony Panico and Terry Taylor to the Cadogan Hall for our sound-check. On arrival we met up with many friends & associates including Albert Lee, Andy Fairweather Low, Joe Brown, Gary US Bonds, Shakin' Stevens, Bruce Welch and Brian Bennett (Shadows), Marty Wilde, Mike Berry, Alvin Stardust and Gary Brooker.
"The show started at 7pm, there was a short interval at 8.30pm and it finished around 10.30pm. The running order was: Albert/US Band, Bob Harris compere, Andy Fairweather Low/Low Riders, Dona Oxford, Gary US Bonds, Shakin' Stevens, Albert/Shadows, Marty Wilde, Mike Berry, Gary Brooker, Joe Brown – Interval – Robert Wells, Ralph McTell/Jane Clark (fiddle), Bill Wyman/Graham Broad/ Terry Taylor/Beverley Skeete, Albert/US Band, Finale.
We went on near the end and performed Jitterbug Boogie and Race With The Devil, and then Albert and Beverley performed Crying In The Rain.
Check out some photos from the show sent over by Bill below:
(Main photo by Judy Totton)