Bill Wyman's Blues Odyssey is told with the passion and insight that only he can command, through his having known many of the legends, played with them, talked with them and taken their music to the world. Former Rolling Stone Bill Wyman talks with many of the blues greats, and the programme includes contributions from a host of legendary performers.
There is concert and performance footage, some never seen before, as well as candid informed comment from men and women who share Bill Wyman's love for the blues.
Features interviews with BB King, Sam Phillips, Buddy Guy, Taj Mahal, Mick Fleetwood, Otis Rush, Albert Lee, Mike Love of The Beach Boys, Wilson Pickett, Clarence Fountain of The Blind Boys of Alabama, Lazy Lester, Big Bill Morganfield (Muddy Waters' son), Rosetta Patton (Charley Poatton's daughter), Giy Davis, and Gary Brooker of Procul Harem.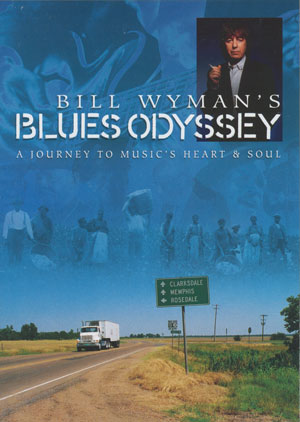 Chapters
The Early Days
The Birth Of The Blues
Country Blues
Urban Blues
Robert Johnson And Elmore James
The Birth Of The Stones
Back To The Country
John Lee Hooker
Sun Records
Chicago
Chess Records
BB King
Spreading The Blues
Muddy Waters
Willie Dixon
Over two hours of footage featuring Bill Wyman personally interviewing such luminaries as BB King, Buddy Guy & Sam Phillips, in a global journey documenting the history of blues music.
Plus – watch footage of the Rolling Stones in concert performing the Robert Johnson classic Love In Vain.
As the counterpart of the successful book of the same name, Bill Wyman's Blues Odyssey DVD is essential to anyone who has either purchased the book Bill Wyman's Blues Odyssey or has an interest in exploring the story and journey of blues music narrated by an ex-member of the Rolling Stones, the band who did so much to introduce the music to the mainstream audience.
Bill Wyman's Blues Odyssey DVD starts by exploring the primitive origins of the blues in Africa and takes us on a global journey through the rural southern states of America up to the urban northern cities and eventually over to Europe and the UK.
Along the way are shown not only the areas where many of the great blues players came from, but also a number of the places they played in and around, allowing you to see and get a true sense of where the blues came from, thus helping not only to unravel the mysteries, but also furthering the romance of this vital genre of music.
Set to a backdrop of classic blues from pretty much every blues performer of significance over the last century, not to mention material from Elvis Presley, Cream, and Eric Clapton, from later generations, this is one of the most significant documentaries on the blues genre of recent times.
Written by Bill Wyman and Richard Havers
Directed by Chris Watson and Barry Eyre
Post production Nick Smith, Smith and Watson Productions
Presented by Clarke Peters
Produced by Richard Havers and Simon Jollands
Executive producer: Bill Wyman
Exempt from classification
2.0 Stereo
Format – DVD 5
Language – English
Ratio – 16:9
Region 2 – PAL
(C) 2002 Ripple Productions Ltd and Pearson Broadmead Ltd
Design and art direction: Richard Evans
DVD menu re-direction: resycle.com
Distributed and marketed by Snapper Music