A fantastic collector's edition white vinyl reissue of Drinkin' TNT 'N' Smokin' Dynamite, produced by Bill Wyman, is set for release in the UK in October – pre-order now to avoid disappointment!
Often cited as the 'original blues brothers', famed guitar and blues harp duo Buddy Guy and Junior Wells play a set packed full of blues classics for their adoring European fans. Recorded live at the 1974 Montreux jazz festival and backed by an all-star rhythm section of Bill Wyman (the Rolling Stones), Dallas Taylor (csny), Terry Taylor (Tucky Buzzard) and legendary American blues pianist, Pinetop Perkins.
Out of print on vinyl for over a decade, Demon Records presents the complete album pressed on heavyweight 180g White vinyl, housed in a printed inner sleeve and featuring the original liner notes by blues aficionado Peter Shertser.
It's the perfect collector's edition – pre-order Drinkin' TNT 'N" Smokin' Dynamite from Amazon.
On sale October 18, 2019.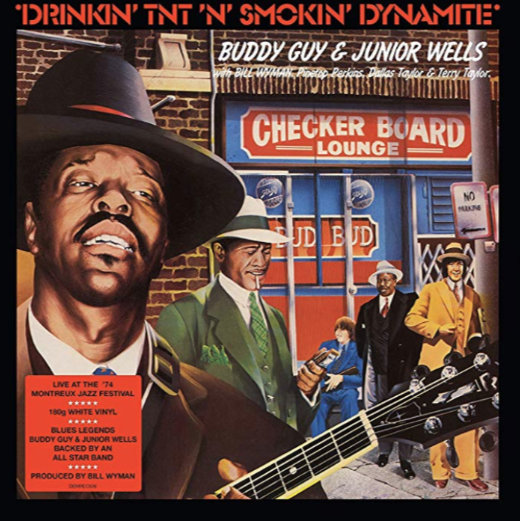 Track Listing
Introduction
Ah'w Baby/Everything Gonna Be Alright
How Can One Woman Be So Mean
Checking On My Baby
When You See the Tears from My Eyes
Introduction
Ten Years Ago
Messin' With the Kid
Hoodoo Man Blues
My Younger Days