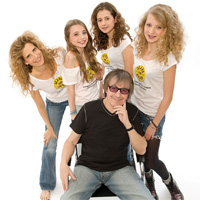 Bill Wyman and his family have backed the Jeans for Genes campaign that aims to help raise £2.5m in 2010 to help children with genetic disorders. Bill, along with his wife Suzanne and their daughters, posed for a recent fashion shoot backing the Jeans for Genes campaign, which this year is celebrating its 15th anniversary.
Jeans for Genes is the national charity raising money for children with genetic disorders. It helps to fund the care and support they need now and the research that could change their lives in the future.
It's the charity that brings you Jeans for Genes Day when thousands of people across the UK – and beyond – make a donation to wear their jeans to work and school.
The charity says that one in 25 children are born in the UK with a genetic disorder. There are more than 4,500 recognised conditions and many more that doctors have yet to give a name to. Although, individually, they're very rare, together they are the biggest killer of children aged 14 and under.
2010 is Jeans for Genes' 15th anniversary and to date the charity has raised £35 million. The fundraising target this year is £2.5 million that will help children to get the support they need, help parents to feel less isolated and allow research to progress.
To find out more about the work they do, please visit www.jeansforgenes.com