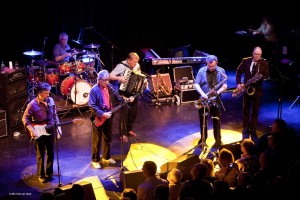 B

ill Wyman's Rhythm Kings

 could be touring near you! Check below for the latest tour dates for Bill Wyman's Rhythm Kings gigs and special events, as well as a guide to recent concerts
Click to book tickets directly with the box office for each venue, and make sure you get your tickets to one of the best nights of live music from a legendary line-up of stellar musicians and special guests.
Full details of up-coming concerts are below, including box office numbers for purchasing tickets. Bookmark this page, and also join Bill on his official Facebook fan page and follow Bill on Twitter (@bill_wyman) for the latest tour dates.
Upcoming Dates
Past Dates
Sun -

Oct

07,

2012

Worpswede (D)
Music Hall Worpswede
Tue -

Oct

09,

2012

Purmerend (NL)
P3
Wed -

Oct

10,

2012

Düsseldorf (D)
Savoy Theater
Sun -

Oct

14,

2012

München (D)
Circus Krone-Bau
Mon -

Oct

15,

2012

Zürich (CH)
Neues Theater Spirgarten
Tue -

Oct

16,

2012

Aarberg (CH)
Hotel-Restaurant Krone
Fri -

Jun

21,

2013

Chichester
Blues On The Farm
Fri -

Jun

28,

2013

Glastonbury
Glastonbury
Thu -

Jul

11,

2013

Sète
Theâtre de la Mer
Sat -

Aug

24,

2013

Market Harborough
Leisure Centre
Sun -

Aug

25,

2013

Colne, Lancashire
Colne R&B Festival
Mon -

Oct

28,

2013

Dartford
Orchard Theatre
Tue -

Oct

29,

2013

Manchester
Bridgewater Hall
Wed -

Oct

30,

2013

Harrogate
Royal Hall
Fri -

Nov

01,

2013

Stoke
Victoria Hall
Sat -

Nov

02,

2013

Ipswich
Regent
Sun -

Nov

03,

2013

Aylesbury
Waterside Theatre
Mon -

Nov

04,

2013

Bristol
Colston Hall
Wed -

Nov

06,

2013

Salisbury
City Hall
Thu -

Nov

07,

2013

Cambridge
Corn Exchange
Fri -

Nov

08,

2013

Basingstoke
The Anvil
Sat -

Nov

09,

2013

Margate
Winter Gardens
Sun -

Nov

10,

2013

Shanklin, Isle of Wight
Shanklin Theatre
Mon -

Nov

11,

2013

Buxton
Opera House
Tue -

Nov

12,

2013

Leeds
Grand Theatre
Thu -

Nov

14,

2013

Birmingham
Symphony Hall
Fri -

Nov

15,

2013

Preston
Concert Hall
Sat -

Nov

16,

2013

Llandudno
Venue Cymru
Sun -

Nov

17,

2013

Watford
Colosseum
Tue -

Nov

19,

2013

Gateshead
The Sage
Wed -

Nov

20,

2013

Dunfermline
The Alhambra
Fri -

Nov

22,

2013

New Brighton
Floral Pavilion
Sat -

Nov

23,

2013

Guildford
G-Live
Mon -

Nov

25,

2013

London
The Barbican
Tue -

Nov

26,

2013

Brighton
Dome
Wed -

Nov

27,

2013

Southend
Cliffs Pavilion
Fri -

Nov

29,

2013

Poole
Lighthouse
Sat -

Nov

30,

2013

Plymouth
Theatre Royal
Fri -

Mar

21,

2014

London
Pizza Express, Dean Street, Soho
Wed -

Jun

25,

2014

Grassington Festival
Festival Marquee
Sun -

Jul

27,

2014

Edinburgh
The Festival Theatre
Tue -

Jul

29,

2014

Cheltenham
Town Hall
Wed -

Jul

30,

2014

Kingston Upon Thames
The Rose Theatre
Sat -

Nov

01,

2014

Uden, NL
Theatre Markant
Sun -

Nov

02,

2014

Heerlen, NL
Parkstad Limburg Theatre
Mon -

Nov

03,

2014

Eindhoven, NL
Muziekcentrum
Wed -

Nov

05,

2014

Schiedam, NL
Theatre aan de Schie
Thu -

Nov

06,

2014

Amsterdam, NL
Melkweg
Sat -

Nov

08,

2014

Chaulnes, FR
Centre Socio Culturel de Chaulnes
Sun -

Nov

09,

2014

Duesseldorf, GER
Savoy Theatre
Tue -

Nov

11,

2014

Arnhem, NL
Luxor Live
Wed -

Nov

12,

2014

Enschede, NL
Wilmink Theatre
Thu -

Nov

13,

2014

Groningen, NL
Martini Plaza
Fri -

Nov

14,

2014

Steenwijk, NL
De Meenthe
Sun -

Nov

16,

2014

Den Haag, NL
World Forum
Mon -

Nov

17,

2014

Hamburg, GER
Fabrik
Wed -

Nov

19,

2014

Goteborg, SWE
Lorensbergteatern
Thu -

Nov

20,

2014

Frederikstad, NOR
Bathusteateret
Fri -

Nov

21,

2014

Olso, NOR
Konserthus
Sat -

Nov

22,

2014

Drammen, NOR
Union Scene
Sun -

Nov

23,

2014

Horton, NOR
Bakkenteigen Kulturhus
Tue -

Nov

25,

2014

Rjukan, NOR
Tinn Kulturhus
Wed -

Nov

26,

2014

Skien, NOR
Ibsenhuset
Thu -

Nov

27,

2014

Al i Hallingdal, NOR
Kulturhuset
Fri -

Nov

28,

2014

Hamar, NOR
Gregers
Sat -

Nov

29,

2014

Notodden, NOR
Notodden Blues Club
Tue -

Dec

02,

2014

Stockholm, SWE
Gota Lejon
Wed -

Dec

03,

2014

Jonkoping, SWE
Konserthus
Thu -

Dec

04,

2014

Odense, DK
Postenlive
Fri -

Dec

05,

2014

Copenhagen, DK
Bremen Teater
Sun -

Dec

07,

2014

Louvain, BE
Het Depot
Wed -

Jul

01,

2015

London
Strand PizzaExpress
Fri -

Oct

28,

2016

London
Indigo at the O2