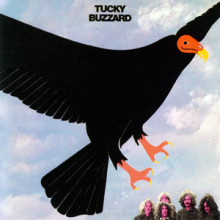 Tucky Buzzard
Jimmy Henderson - vocals
Dave Brown - vocals and bass guitar
Nicky Graham - vocals and keyboards
Terry Taylor - vocals and guitar
Chris Johnson - drums
Lead vocals by Jimmy Henderson, except Sally Shotgun and My Friend (Dave Brown) and Time Will Be Your Doctor and Gu Gu Gu (Nicky Graham)
Additional musicians:
Paul Francis - drums
Mick Taylor - guitar on My Friend
Bobby Keys - horns on Whiskey Eyes and Rolling Cloud
Jim Price - horns on Whiskey Eyes and Rolling Cloud
All tracks arranged by Bill Wyman/Tucky Buzzard except Pisces Apple Lady (Leon Russell)
Recorded and mixed at Olympic Studios, London, England
Engineer: Keith Harwood - Assisted by: Chris Kimsey and Jeremy Gee
Mixed by Glyn Johns and Keith Harwood
Album Design: Dirt Boys
Produced by Bill Wyman
Originally released June 1971
Tucky Buzzard
cheap cialis jelly from canadian drugstore
Recorded at Olympic Studios, Barnes, London, 1969 and 1971. All tracks written by Tucky Buzzard except 'Pisces Apple Lady' written by Leon Russell. Paul Francis [drums] left during the recording of this album and his place was taken by an old friend from Spain, Chris Johnston.
http://maientertainmentlaw.com/?search=cialis-no-prescription Produced by Bill, with occasional help from Glyn Johns, with Mick Taylor doing a bit of guitar playing, and the Rolling Stones brass section of Bobby Keys [sax] and Jim Price [trumpet] helping out on some tracks.
Full track listing
Tucky Buzzard
Time Will Be Your Doctor
Stainless Steel Lady
Sally Shotgun
Gu Gu Gu
My Friend
Pisces Apple Lady
She's Meat
Ace The Face
Whiskey Eyes
Rolling Cloud