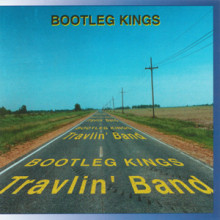 release date:
May 11, 2002
share:
Line-up
Graham Broad - drums
Georgie Fame - vocals and organ
Janice Hoyte - vocals
Albert Lee - guitar and vocals
Frank Mead - sax
Nick Payn - horns
Mike Sanchez - vocals and piano
Beverley Skeete - vocals
* Martin Taylor - guitar
Terry Taylor - guitar
Bill Wyman - bass
* Martin Taylor does not perform on tracks 7 and 9
Recording Engineer: Stuart Epps
Mastering Engineer - Tim Young
Produced by the Dirt Boys for Ripple Records
Artwork by Kevin Jamieson @ Musicbase
Cover Photo: Richard Havers
Special thanks to Tony Panico
Travelin' Band
Continuing the tradition of Bill Wyman bootlegging his own Rhythm Kings concerts, this official bootleg CD released under the Bootleg Kings banner, debuted back in 2002.
Another chance to hear the Rhythm Kings in concert - this official bootleg CD features tracks recorded during Bill Wyman's Rhythm Kings' 2001 UK Tour and features the Rhythm Kings regular band members.
The Rhythm Kings line-up includes Graham Broad, Georgie Fame, Janice Hoyte, Albert Lee, Frank Mead, Nick Payn, Mike Sanchez, Beverley Skeete, Martin Taylor, Terry Taylor and Bill Wyman.
Liner notes
Chicken Shack Boogie [5:10] (A Millburn/C Cullam) (EMI Music Publishing Ltd)
Recorded: Colston Hall, Bristol, 01-Jul-2001
Vocals by Mike Sanchez
Walking One & Only [3:27] (Dan Hicks) (BUG Music Ltd)
Recorded: Queen's Theatre, Barnstaple, 15-Jun-2001
Vocals by Georgie Fame
Love Letters [3:48] (Heyman/Young) (Famous Music Publishing Ltd)
Recorded: Queen's Theatre, Barnstaple, 15-Jun-2001
Vocals by Beverley Skeete
Jitterbug Boogie [3:23] (Wyman/Taylor) (Wytel Music Ltd)
Recorded: Mayflower, Southampton, 10-Jun-2001
Vocals by Mike Sanchez
Cats Eyes [4:45] (Georgie Fame) (MCPS)
Recorded: Theatre Royal, Bath, evening, 03-Jun-2001
Vocals by Georgie Fame
This Little Girl's Gone Rocking [3:40] (Curtis/Darin) (Universal/MCA Music Ltd)
Recorded: Colston Hall, Bristol, 01-Jul-2001
Vocals by Janice Hoyte
Hit The Road Jack [10:07] (Mayfield) (Rondor Music (London) Ltd)
Recorded: Fairfield Hall, Croydon, 22-Jun-2001
Vocals by Georgie Fame
I Put A Spell On You [6:42] (Jay Hawkins) (EMI United Partnership Ltd)
Recorded: Colston Hall, Bristol, 01-Jul-2001
Vocals by Beverley Skeete
Tell You A Secret [12:22] (Wyman/Taylor) (Wytal Music Ltd)
Recorded: Fairfield Hall, Croydon, 22-Jun-2001
Vocals by Mike Sanchez
Makin' Whoopie [5:30] (W Donaldson/G Khan) (EMI Music Publishing Ltd)
Recorded: The Stables, Milton Keynes, 28-Jun-2001
Vocals by Georgie Fame and Beverley Skeete
Guitar by Martin Taylor
Bonus track Makin' Whoopie [5:45] (W Donaldson/G Khan) (EMI Music Publishing Ltd)
Recorded: Assembly Hall, Tunbridge Wells, 21-Jun-2001
Vocals y Georgie Fame and Beverley Skeete
Organ by Georgie Fame
(Ripple Records RIPCD 003)
Full track listing
Travelin' Band
Chicken Shack Boogie
Walking One & Only
Love Letters
Jitterbug Boogie
Cats Eyes
This Little Girl's Gone Rocking
Hit The Road Jack
I Put A Spell On You
Tell You A Secret
Makin' Whoopie
Makin' Whoopie (Bonus Track)