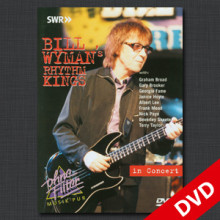 share:
Band Line Up:
Bill Wyman, Graham Broad, Gary Brooker, George Fame, Janice Hoyte, Albert Lee, Frank Mead, Nick Payn, Beverley Skeete, Terry Taylor
Features:
Interview with the Producer
Artist Biography
Sound Tuning
Recorded: April 26th 2000 by Sudwestrundfunk, Stuttgart, Germany at TV-Studio 'Ohne Filter', Baden-Baden, Germany.
Producer - Michael Au
Executive Producer - Bernhard Roessle
Video Postproduction - Dipl Ing Peter Eichler
DVD Authoring - Dipl Ing Peter Eichler
Region - Codefree
Sound Format - Dolby Digital 5.1 / Dolby Pro Logic 2 / PCM Stereo
Picture Format - 4:3
Languages - English, German
Menu Languages - English, French, German, Italian, Spanish, Portuguese
Subtitles - French, Italian, Spanish, Portuguese
Running Time - Approx 60 minutes
http://acrossaday.com/?search=propecia-discount
Ohne Filter – Bill Wyman's Rhythm Kings in Concert
A man who needs to prove nothing, but still wants to, Bill Wyman played bass with the Rolling Stones for thirty years and is still eager to play funky rhythm and blues. Together with his star-studded and enthusiastic band -the Rhythm Kings - he enjoys the Good Old Times live.
go to link Ohne Filter - Musik Pur: the unparalleled TV music programme, whose name literally translated means "Without Filter - Sheer, Unadulterated Music", has been produced and broadcast without a break continuously since 1983, a record for a programme of this kind. Over the years artists from the fields of blues, country, funk, gospel, jazz, rock, R&B and soul have shaped the image of this incomparable live music happening. from Europe via the USA to Japan Ohne Filter - Musik Pur is not only known and loved by the public but by world class musicians & bands alike, 300 of which have paid a visit to Studio 5 at SWR in Baden-Baden.
source url