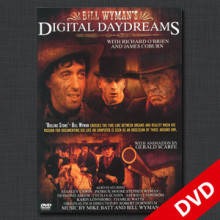 release date:
October 31, 2005
share:
Running Time - 110 minutes approx
Language - English
Format - 4:3 / 16:9
Audio: 5.1 Dolby Digital / 5.1 DTS / Dolby Stereo
Region: PAL
DVD Credits:
DVD Director - Robert Garofalo
Producer - Lyn Beardsall
Associate Producer - Jo Garofalo
Editor - Robert Garofalo
Assistant Editor - Ben Gates
Sound - John Buckley
Authoring - Miles Tudor
Menu and Print Design - Craig Whyte
Production - Ben Williams, Mike Dunne, Katie Cullinan, Zoe Carlsen-Jones, Hesham Barr, Chris Wright, Debbie Wilmott
Film Credits:
Produced by - Bill Wyman and Astrid Lundstrom
Directed by - Robert Dornhelm
Executive Producer - Eric Gardner
Original Edit by - Tina Frese
Screenplay - Richard O'Brien
Music by - Mike Batt and Bill Wyman
Orchestra Performed by - The London Symphony Orchestra
Orchestra Conducted by - Mike Batt
All original music (C) 1983 - Ripple Music/Rondor Music Ltd
Teardrop Waltz (Terry Taylor/Mike Batt)
Penguin Parade (Patrick Moore)
Miss You (Jagger/Richards) (Colgems/EMI Music Ltd)
Satisfaction (Abkco Music Inc)
Street Fighting Man (Abkco Music Inc)
The Last Time (Abkco Music Inc)
Have You Seen Your Mother Baby (Abkco Music Inc)
Jumpin' Jack Flash (Abkco Music Inc)
Love Me (Jerry Lieber Music/Mike stoller Music/Bienstock Publishing Co)
Gone Fishing (Bourn Music Co)
Tonight (C G Schirmer Inc)
Around & Around (Arc Music Corp)
Nuclear Reactions (Ripple Music/Rondo Music Ltd)
Director of Photography - Karl Kofler
Sound - Willi Buchmuller
Production Manager - Peter Kohn
Choreography by - Arlene Phillips
Make up by - Sarah Monzani
Wardrobe by - Pip Newbury
Still Photography - Tony Kent
Digital Daydreams
Bill Wyman crosses the fine line between dreams and reality when his passion for documenting his life on computer is seen as an obsession for those around him. A rich, full tapestry of the life and times of Bill Wyman through which are woven whimsical fantasy sequences, historical slices of his career with the world's greatest Rock 'n' Roll band ever, The Rolling Stones, and intimate psycho-dramatic glimpses behind the public mask of this superstar.
A limited edition, of what was then known as the film Digital Dreams, was originally produced in 1983, following the massive Stones tours at the dawn of the eighties. Bill Wyman, already confirmed as the eternal archivist, purchased a computer that made him one of the first people in the UK to own an Apple home computer. "It had just about enough memory to put half your address book on it" Wyman jokes, "but at the time it was quite magical & I started to enter my diaries & the whole history of the Stones".
He then began to recall more & more memories of his childhood, which ultimately provoked the concept for what was to become a full length feature film containing music, drama, comedy, fantasy, & historical content.
It's a film laden with an all star-cast led by none other than Bill himself, the late - great Hollywood legend James Coburn & the exceptional Richard O'Brien. References paying tribute to classics such as 'The Good, The Bad & The Ugly' & 'Doctor Zhivago' are also threaded into the screenplay. It never crossed my mind to get into some serious acting career, but it was fun to be able to get away with a few things says Wyman, it's all based on moments in my life, but in a tongue in cheek way, a slightly adapted life story, with some artistic licence of course.
Speaking in somewhat of a reminiscent mood Bill adds "I was able to get a lot of my favourite people of the time into the script; it's a glorified home movie, made just for fun". Playing alongside Bill is Astrid Lundstrom, the self-proclaimed computer widow, & girlfriend of Bill Wyman for 16 years. "We were actually in the process of breaking up while the film was being shot" he explains, "we had gone through some difficult times, & I thought we could do the film & pull it together but it didn't really work".
Richard O'Brien, of The Rocky Horror Picture Show & Crystal Maze fame is heavily featured throughout the movie & also adopted the position of screenplay writer. "I played a kind of butler figure, an orchestra leader, & a kind of strange horseback figure at one stage" says O'Brien "it's surreal, it's an art movie". Wyman adds further light to film making process by confirming "It wasn't a script that was set in stone at all; it was very adlibbed all the way through".
Wyman recruited an eclectic group of fascinating personalities to complete the cast list in Digital Daydreams such as the late Stanley Unwin, well known for his gobbledy-gook speak, who famously glazed the Small Faces' Ogden's Nut Gone Flake album with his own inimitable narration & world famous astronomer & TV presenter Sir Patrick Moore. Scenes are lovingly connected with animation sequences from the expertise of Gerald 'The Wall' Scarfe & complemented by wonderful themes & orchestrations from film score prodigy Mike Batt, performed by the London Symphony Orchestra. Additional tracks featured include the Stones' classics 'Satisfaction', 'Street Fighting Man', 'Miss You' & 'Jumpin' Jack Flash'.
Rolling Stone, Charlie Watts & Stranglers member Jean-Jacques Burnel feature briefly in scenes shot at the family home in Gedding, Suffolk, yet Wyman admits "we didn't want to fill it with cameo parts its just so happens they were hanging around at the time".
Un-earthed from Bill's archives over 20 years later, the film, now re-named, re-cut & re-mastered at Shepperton Film Studios, UK will surely provoke interest & intrigue for music & film fans on many levels.
Special Features
The Making of Digital Daydreams
Documentary featuring Interviews with - Bill Wyman, Gerald Scarfe, Richard O'Brien & Mike Batt.