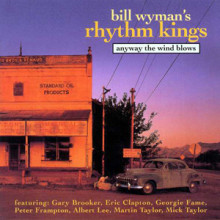 share:
best cialis price Musicians featured include Pete Beachill, Graham Broad, Gary Brooker, Paul Carrack, Eric Clapton, Debi Doss, Andy Fairweather Low, Georgie Fame, Peter Frampton, Sid Gauld, Geoff Grange, Dave Hartley, Nicky Hopkins, Chris Johnson, Sonia Jones, Albert Lee, Andy Macintosh, Frank Mead, Zoe Nicholas, Nick Payn, Nick Pentelow, Jerry Portnoy, Chris Rea, Melanie Redmond, Mike Sanchez, Beverley Skeete, Keeley Smith, Martin Taylor, Mick Taylor, Terry Taylor, Derek Watkins, Geraint Watkins and Bill Wyman.
price check 50mg viagra
Anyway The Wind Blows
Featuring the regular Rhythm Kings line up plus ''a dream team of musicians of the calibre of Eric Clapton, Chris Rea, Albert Lee, Georgie Fame, Andy Fairweather Low and Mick Taylor. This follow-up consists of '30s and '40s blues/jazz standards and Wyman's pastiche originals. With no corners cut in production or performance, delivery is immaculate. There's not a duff track on the album.'' - (**** Q Magazine)
source link The result is a delicious blend of blues, jazz, R&B and rock that will transport you to a land where it's always two in the morning, and where the air is thick with cigarette smoke and the heady mix of bourbon and perfume. This is a master class of musicianship, blues arrangements and emotion. Of course if you ask Bill Wyman he'll just give a small wry small and say "Nah, it's just a few mates having a good time."
levitra professional mail order Mojo Magazine (November 1998) reviewed it, saying: "Bass playing ex-Rolling Stone, alone with his pals. Far from a retired rock millionaire's indulgence, this is high-precision, white-boy jazz-blues-pop superbly performed by top Brit R&B veterans. Albert Lee does his jaw-slackening pickin' thing, Clapton and Mick Taylor show up, Georgie Fame and Gary Brooker are on Hammond and piano respectively and there's a creamy rhythm section negotiating boogie, two-beat swing and gumbo grooves with aplomb. Wyman's '70s solo albums always displayed a flair for stylistic detail but his weak singing virtually relegated them to vanity projects. Not so here; with Fame, Paul Carrack and Beverley Skeete on authentic vocal form, Wyman's pastiche compositions comfortably hold their own with standards like Gee Baby Ain't I Good To You. There's still the odd dodgy "bow-legged woman" and "don't like the way you cook/don't like the way you look" hangover, but that's Bill." [Chris Ingham]
see url Q Magazine (December 1998) said: "Former Rolling Stone teams up with a stellar cast of players. The second of a trilogy involving a dream team of musicians of the calibre of Eric Clapton, Albert Lee and Andy Fairweather Low. After last year's rootsier, R&B-oriented predecessor, Struttin' Our Stuff, this follow-up consists of '30s and '40s blues/jazz standards and Wyman's pastiche originals. With no corners cut in production or performance, delivery is immaculate, although each song tends to stand alone, like a set-piece, rather than forming a coherent whole. Overall, however, there's not a duff track on the album, with Georgie Fame's smokily quizzical tones on Walking One & Only and Beverley Skeete's sassy rendition of the toe-tapping When Hollywood Goes Black & Tan standing out." **** [Valerie Potter]
lasix buy online without prescription